Multi-instrumentalists Mal Webb & Andrew Clermont have toured across Australasia & Europe for 20 years as Totally Gourdgeous with pumpkin power instruments (Gourds of course) bringing all walks of music into collision in stunning ways. Now they refine into Totally Gourdacious!
Webb has recently returned from Switzerland and his TedX talk "The Best Synthetizer is ... the Human Voice"!!
He is also regularly touring with multi-talented Kylie Morrigan turning classical upside down.
Emma Pask
Gunnedah Civic Theatre
May 4th 2018
Award winning Australian vocalist Emma Pask has firmly established herself as one of this countries favorite voices in Jazz. Her efforttless honest stage presence combined with her powerful vocal ability, leaves audiences spellbound and inspired.
Well know for spending the last 20 years by the side of jazz virtuoso James Morrison, he says of Emma "whilst it's fashionable to be a jazz singer these days, she is the real thing!"
London Klezmer Quartet
Don Juan
Internationally renowned guitarist Karin Schaupp and acclaimed actor/director Tama Matheson join forces to bring their seductive show, Don Juan,to Gunnedah
Saturday, 19 March 7.30pm
The Civic Theatre
Tickets: $35 Adults, $30 Concession
TICKETS AVAILABLE on TRYBOOKING
A feast of music and adventure, Don Juan, co-created by actor/writer/director Tama Matheson and acclaimed guitarist/actress Karin Schaupp, will tour to Dubbo and Gunnedah in March as part of Musica Viva's CountryWide regional touring program.
For one night only at both Macquarie and Gunnedah Conservatoriums, audiences will experience a unique semi-staged presentation that interweaves poetry, drama and music into a play that follows the life of one of the most magnetic and seductive heroes in western literature, Don Juan, and his equally charismatic creator, Lord Byron.
"Don Juan is a unique blend of dramatic biography, music and poetry," says Ms Schaupp. "The music is varied and underpins the text, as well as standing alone in poignant moments. With a lot of humour and scandal thrown in, this is one entertaining presentation."
The wonderfully evocative music of Turina, Pujol and Tarrega will transport the audience to the world of Byron and Don Juan. Matheson will give a powerful portrayal of Byron as Schaupp steps into the drama and becomes part of the play that scintillates with romance, passion, humour and intrigue.
"There are some very moving musical moments where we glimpse the darker, more vulnerable parts of the man behind Don Juan and this is where the music takes the audience beyond the words," says Schaupp.
"At the other extreme, I also love the moment where I get to jump out of my chair and do some lively acting as the affronted wife of Don Alfonso who has just been discovered in bed with the very young Don Juan and is fervently denying it!"
Taking Don Juan to regional audiences is important to Matheson and Schaupp.
"I particularly love regional audiences as they are very engaged in the music and since the venues are more intimate, you often feel closer to them," says Schaupp.
"I am particularly proud of this show and collaborating with Tama Matheson has been very inspiring. I am glad Don Juan will be presented far and wide."
Cosi Fan Tutte
by W.A. MOZART
GUNNEDAH TOWN HALL
Sunday 26 April - Doors at 2:30pm, Curtain 3pm
Gunedah Conservatorium will present Co-Opera's production of Cosi Fan Tutte at the Town Hall on Sunday afternoon the 26 April.
Pack your picnic basket, because we are taking you to the opera cabaret style in the art deco spleandour of Gunnedah Town Hall.
Sung in English, Co-Opera's production of Mozart's opera buffa [comic opera] Cosi fan tutte will enchant the most discerning audience.
In Cosi fan tutte, we see an hilarious game played out where love, trust and pride are at stake. The wealthy and manipulative socialite Don Alfonso declares to his young friends, Guglielmo and Ferrando, that no woman can be trusted including their respective fiancées, Dorabella and Fiordiligi. Enraged at this slur the two officers wager that their fiancées will remain faithful even if tested. The men agree to follow Don Alfonso's plan to test the women's fidelity and so begins the outrageously funny and moving tale.
Mozart's masterpiece of comedy in music is astonishingly contemporary and continues to engage and delight audiences with its witty insight into relationships and love. Co-Opera's fine cast of established and emerging operatic artists artfully bring to life this irreverent and touching production, allowing the music to sparkle and the fun to run wild. A great afternoon out for people of all ages, first-timers and the die-hard opera fan!
Nicholas Cannon
Director
March 2015
TICKETS:
$45 Adults
$40 Concession
$35 /ticket for Group 8+
$20 Children
$100 Family (2A 2C)
The Flinders Quartet
The Civic
Saturday 4 June, 7:30pm
Tickets
$30 Adult
$25 Conc
$58 Family (4)
$7 School Students
Go to www.trybooking.com/201125 for tickets
Shane Chen violin
Nicholas Waters violin
Helen Ireland viola
Zoe Knighton cello
"... the quartet sounded as if they had been playing together for a lifetime: unity of interpretation, tight ensemble, fine balance, matched tone, and fluent dialogues between solo and collective lines." Eamonn Kelly, The Australian
Flinders Quartet (FQ) is instantly recognisable as one of Australia's most loved chamber music ensembles. A quartet for the twenty-first century, Flinders continues its second decade with acknowledged musical skill and maturity. Their dynamic and stirring performances of a full spectrum of repertoire have audiences and critics articulating their esteem, and the quartet is now a highly respected force in Australian chamber music.
FQ regularly commissions and premiered works by Australian composers. In 2015, the quartet premiered works by Andrew Ford, Tom Henry, and Sweden's Mattias Lysell, while Elena Kats-Chernin and Stuart Greenbaum commissions are slated for 2016. In their ongoing mission to further the Australian tradition of chamber music, FQ has previously commissioned and premiered works by Katy Abbott, Calvin Bowman, Ross Edwards, Richard Mills, Paul Dean, Paul Grabowsky, Ian Munro and Peter Sculthorpe.
Vanguards of the Melbourne chamber music scene, FQ initiated their own annual subscription series in 2002. The series has gained momentum each year, and the quartet now enjoys programming and presenting their own season in three Melbourne venues.
The quartet is regularly invited to perform and tour for chamber music presenters such as Musica Viva, and is in demand at festivals throughout Australia often in association with some of the country's finest talents, including Slava Grigoryan, Kristian Chong, Ian Munro, Paul Dean, Karin Schaupp, Genevieve Lacey and Jayson Gillham. International engagements have taken them to the UK, Singapore, Canada, and most recently, Sweden and Finland, where they were invited to perform the complete string quartets by Sibelius.
"... very exciting and never boring." Susanne Holmlund, Sundsvalls Tidning (Sweden)
FQ's 2016 performance schedule includes their annual Melbourne subscription series, a collaboration with pianist Benjamin Martin, and recitals and masterclasses in various parts of metropolitan and regional Australia.
Building on its 2006 Limelight Award and 2007 Melbourne Prize for Music nomination, FQ was nominated for a 2007 ARIA (Australian Recording Industry Association) award for its performance of Gillian Whitehead's Bright Forms Return in collaboration with new music ensemble Halcyon. In 2010, FQ was again nominated for the Melbourne Prize for Music, and in 2011 received an ARIA nomination for its CD release with Karin Schaupp (guitar), Fandango.
FQ was Radio 3MBS FM's inaugural Artists in Residence, a position they held until 2006. The quartet continues to receive regular airplay on that station, as well as on ABC Classic FM, Sydney's Fine Music FM, various other Australian stations, and on Finland's Radio Vega.
FQ's first commercial CD release, Reinventions with Genevieve Lacey, met with critical and popular acclaim and was re-released on the ABC Classics label in 2015. Also on the ABC Classics label is their ARIA-nominated 2011 release, Fandango, with Karin Schaupp, and their forthcoming CD release Intimate Voices: Sibelius String Quartets.
The members of Flinders Quartet have a steadfast commitment to the development of Australian chamber music, musicians and audiences. As teachers and mentors they regularly work with the Australian Youth Orchestra and its developmental programs for young chamber groups. They also work with the Victorian Amateur Chamber Music Society, and are regularly invited to tutor at secondary and tertiary institutions throughout Australia including the University of Melbourne.
"They create wonderful new synergies, setting sparks flying as player bounces off player with the skill, simpatico and exhilaration of a jazz combination."Patricia Kelly, Courier Mail (reviewing Fandango)
"...one of Australia's finest."
Suzanne Yanko, artsHub
THE SPOOKY MEN'S CHORALE - Saturday, 18th of February 2017
Ennobled by improbable facial hair,
burdened by a vast, lovable incomprehension,
and dignified with cavernous vocal chords, The Spooky Men's Chorale
employs a devastating combination of beauty and stupidity to comment on the unsolvable paradoxes of being a man through a diverse repertoire:
from Georgian table songs to immaculate ballads, vaudevillian nonsense to the Bee Gees.
"The 16-man Australian choir mix deadpan comedy with sophisticated a capella harmonies. The results are unexpected, charming and very funny."
- The Guardian
Join the Spooky Men for a FREE outdoor community singing event at the Gunnedah Markets and then that evening in concert.
Supported by Musica Viva and Arts North West
Gunnedah Markets // 11am
Gunnedah Town Hall // 7:30pm
Click here to buy tickets now!
Adult: $35
Concession: $30
Student: $16
School group of 10 and 1 teacher: $160
THE WORLD ACCORDING TO JAMES FAMILY CONCERT - Friday, 24th of February 2017
Featuring trombone, trumpet, saxophone, drum kit and bass, the four members of The World According to James skilfully draw students to discover the core elements of jazz and the world of improvisation, where they learn how to be "in the moment", incorporate the unexpected, and turn "mistakes" into masterpieces.
JAMES GREENING || trombone, pocket trumpet
MATT STONEHOUSE || saxophone
TOBY HALL || drums
STEVE ELPHICK || double bass
"As a long-time fan, I knew how good the music would be, but I was tremendously impressed with the band's pedagogy: touching lightly on all of the curricular concepts of music without ever seeming didactic. The students loved the mass improvisation with the authentic instruments that Steve shared and my little Year 1s were especially taken with the tango activity, which was a surprise to them. They left the concert as high as kites, singing all the tunes all afternoon."
- Dr James Renwick – Rozelle Public School
6:30PM // SMITHURST THEATRE // SAUSAGE SIZZLE

TICKETS:
Child: $5
Adult: $10
Click Here to book online
THE STRING CONTINGENT RESIDENCY: Exploring the Beauty of Ensemble Music Making - 20th - 26th of March 2017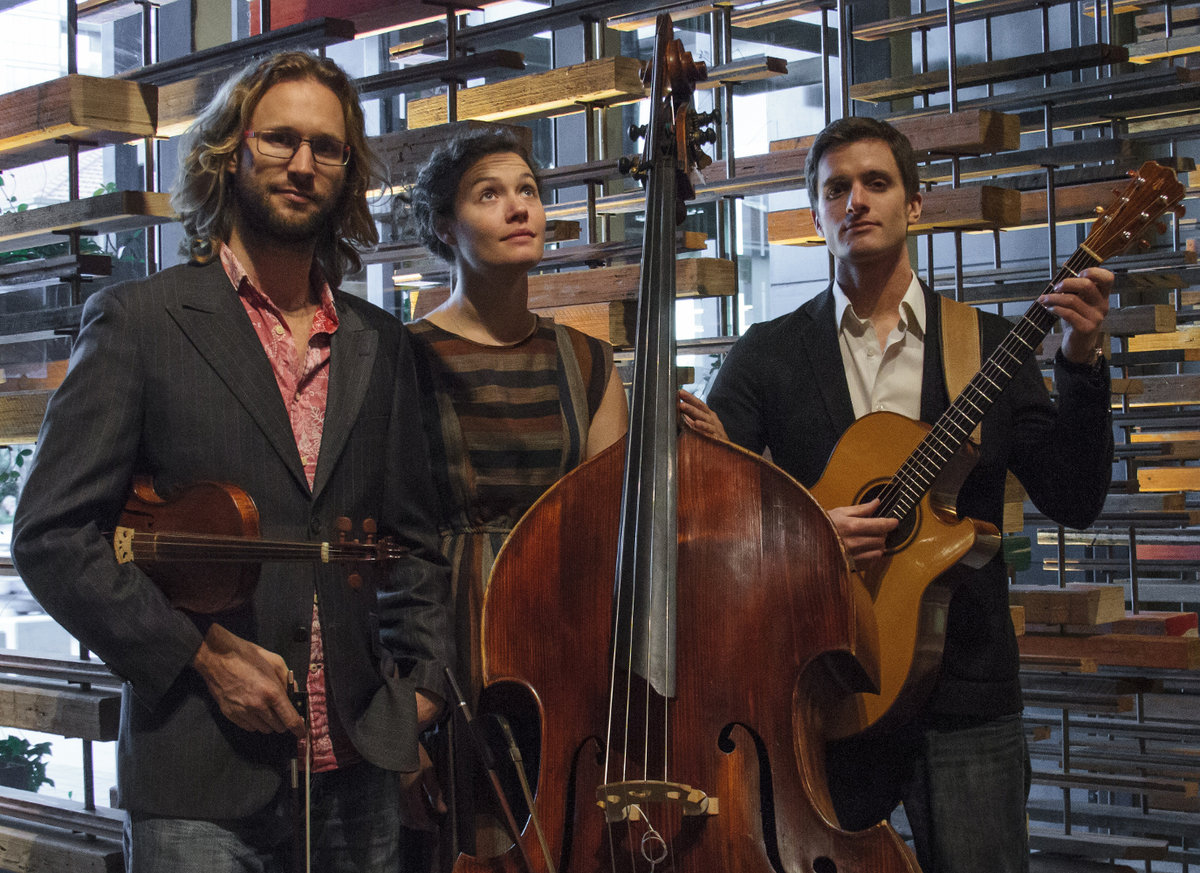 The String Contingent combine diverse musical backgrounds in Celtic, classical, jazz and pop into melodic, evocative and timeless musical discussions. Their music 'brings to mind the bluegrass records of Yo-Yo Ma and Edgar Meyer... with elements of Bach, Kronos Quartet and sometimes a splash of Philip Glass... they are incredibly skilled...'
(Ulf Torstensson, Lira Magazine).
Through their three albums - 2010's self-titled debut, 2012's TSC II and 2013's Talk - Chris, Graham and Holly have consistently challenged the traditional roles of their instruments. Their compositions explore a myriad of musical textures through a balance of arranged and improvised material. This approach has resulted in a musical ethos that showcases the individuality of each musician and eclipses genre; featuring bowed bass melodies, percussive violin and right guitar grooves.
Visit www.thestringcontingent.com to find out more about the incredible music of The String Contingent!
More information about time, place and tickets to be posted.
TCHAIKOVSKY'S EUGENE ONEGIN - Sunday, 2nd of April 2017 5:30pm
Co-Opera is Australia's only dedicated touring opera company and has been bringing productions such as Eugene Onegin around the country for 20 years - always to great acclaim.
For more information and to buy tickets click here
THE AUSTRALIAN BRASS QUINTET - Saturday, 29th of April 2017 6:00pm
The Australian Brass Quintet is comprised of some of Australia's foremost brass musicians who have been playing together in different ensembles for over 15 years. The Australian Brass Quintet is a new ensemble that gave its' first performance at the Melbourne International Festival of Brass 2008 to great acclaim.

The group's members are held in the highest regard as soloists and teachers, appearing regularly all over the world. They hold orchestral positions within Australia and Singapore, and also teach within these countries' finest tertiary institutions.

The Australian Brass will convene regularly in 2009 to perform throughout Australia and abroad. In addition they will present masterclasses for high school and university students around the country.

Tristram Williams (trumpet) is an internationally renowned soloist and Lecturer in Brass at Melbourne University.

David Elton (trumpet) is Principal Trumpet with the West Australian Symphony Orchestra and teaches trumpet at the University Of Western Australia and at WAAPA.

Ben Jacks (horn) is Principal Horn with the Sydney Symphony and is a lecturer in Horn at the Sydney Conservatorium.

Michael Bertoncello (trombone) is a member of the Melbourne Symphony Orchestra and Lecturer in Brass at Melbourne University.

Shannon Pittaway (bass trombone) is Assistant Principal Bass Trombone with the Singapore Symphony and is Artist Faculty at the Yong Siew Toh Conservatory.
Performances will be held at:
Gunnedah Shire Band Hall. Saturday 29th April at 6pm.
The Octagon, St. Andrew's Cultural Centre, Coolah. Sunday 30th April at 2pm.
Adult: $30
Concession: $25
School Student: $15
Conservatorium/Shire Band Student: $10
Secret Bridesmaids Business- 27th July to 5th August 2017
Meg Bacon is less than 24 hours away from the biggest day of her life! To celebrate, Meg has asked her bridesmaids and mother to join her for some girlie fun on her last night as a bachelorette. However, as secrets are discovered could Meg's plans of a perfect wedding be shattered right before her eyes?
Written by Australian playwright Elizabeth Coleman, Secret Bridesmaids' Business is an entertaining and funny play that addresses important issues such as love, truth and friendship. The Gunnedah Conservatorium presents a cast of Gunnedah's local talent to help bring this performance to the Civic Theatre's stage in late July.
Cast List: Director:
Ruth Macaulay Larni Christie
Kerry Wirth
Alison Myers Assistant Director:
Jo Barton Kathryn Blinman
Grace Norris
Ben Hennessy
Director Larni Christie started teaching Speech and Drama at the Gunnedah Conservatorium in 2016. Larni is a life member of the Muswellbrook Amateur Theatrical Society (MATS) and still has a strong teaching studio in the Upper Hunter. With Director of Gunnedah Conservatorium, Rebecca Ryan, Larni hatched the plan to bring a local production of Secret Bridesmaids' Business to the Gunnedah stage.
Session Dates and Times Ticket Price: $25
Thursday 27 July 7pm
Friday 28 July 7pm
Saturday 29 July 7pm
Friday 4 August 7pm
Saturday 5 August 7pm
Tickets will be available from 27th June 2017 via our website www.gunnedahconservatorium.com.au or from our office at the town hall.
Andrew Clermont: The Apostle Tour 5th November 2017
2pm @ The Rotunda, Wolseley Park
BYO picnic and pack the rug or chairs for an afternoon of music at the Rotunda @ Wolseley from 2pm.

The highly anticipated show of Peter, Paul and ... Andrew (!) will hit the Gunnedah stage to perform a short history of the Western World of Music. The group are renowned for their acoustic music, with 30 years of association in harmony and song.

Pete Fidler- Dobro (Slide Guitar) –recently remade Pink Floyd's Dark Side of the Moon to critical acclaim
Paul Wookey- Renowned for incredible Blues to early Country delivery of mainly 60s and 70s classics
Andrew Clermont and the fiery Fiddle, Mandolin and Guitar.

Don't miss out on this great opportunity to see these fantastic performers!
Gallery After Dark featuring Arcadia Winds 10th November
6pm-9pm @ The Gunnedah Bicentennial Creative Arts Gallery
\
The Gunnedah Conservatorium and Gunnedah Shire Council are hosting a unique performance by a subset trio of the wonderful quartet Arcadia Winds with a twist.

During the performance there will be easels and materials provided to draw, paint and create the performance of Arcadia Winds 'The Air I Breath' in action at the Gunnedah Bicentennial Creative Arts Gallery.

The collaboration dubbed 'The Gallery after Dark' will see the night begin at 6:00pm with a short warm up drawing class and by 7:00pm the performance will be in full swing, providing the soundtrack and the subject matter for night.

All community members are welcome to come along for a free opportunity to experience a laid back night of experimenting and creating with music and art. With light refreshments provided.
The Beatles Tribute Show- 30th November
7pm-9pm @ The Civic Theatre Gunnedah
30TH NOVEMBER// 7PM// CIVIC THEATRE GUNNEDAH
$10 ENTRY
SUPPER PROVIDED
Come along and enjoy some timeless music as the Gunnedah Conservatorium students take you on a journey through the musical uprise of one of the greatest bands in the world.
Sandy Clark's talented vocal and guitar students will take you back to the 60's when the Beatles rose to fame in this fantastic two hour showcase of The Beatles Song Book.
Click here to purchase tickets.